Why are you losing weight? Not by might but by His Spirit
How God's love restores us (and 70 lbs lighter)
On "Hearing from God"
Marine Moms and all military moms: If you sent in a picture of your son or daughter, you can now see the video at "Marine Collages and Prayers" through Facebook God bless our troops.
"Return to Me," saith the LORD A Warning - days before series of tornadoes began ripping into the heartland
Blow the Trumpets, Weep for our children!
Warning days before Arab spring touched off by man setting self on fire
Mosques, Muslims and Minivans
warning on the 10 year anniversary of 911 World Trade Center memorial
Stock Markets, Shopping Malls & Sprinklers of Fire
prophetic dream realized regarding economy and California's gas explosion in San Bruno
Jesus, three days and three nights in the heart of the earth, not tomb
WAS Three days and three nights explained, as is written!
PARENT ALERT: School FAILS to defend use of Prentice Hall Textbook indoctrinating your children to Islam. Different textbook, same attempts. Houghton Mifflin began with Clinton, notice while President Bush was in office and with God's blessing, it was effectively put down. Now with Obama and Holder, what will happen? Is our government going to continue pushing Islam on our children again? http://radio.foxnews.com/toddstarnes/top-stories/school-defends-textbook-calling-muhammad-gods-messenger.html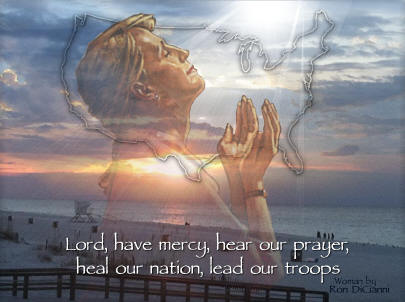 Marine mom's Letter to Libs: "What war is"
by Jen Schroder May 6, 2013
click on image to enlarge
President Obama, Governor Jerry Brown, please do something about the LIES and bias in our public school textbooks:
VIDEO: High School Textbooks biased against Israel
"Across the Centuries" 7th Grade textbook
"A Message of Ancient Days" 6th Grade textbook

GUN RIGHTS: When do we pick up arms and Fight?
Tell us your story
If you feel that your child is being indoctrinated in public school, contact us. We will contact your school to confirm details without you or your child's name disclosed. If need be, we will draw attention on a national level to what is happening at your school. If that doesn't help, we can assist in finding legal counsel. There are organizations that will help free of charge depending on the facts, but at the legal level you will have to decide if you are willing to go public.

BlessedCause is here to help. No one should feel like their child is held hostage to suffer retribution if they complain about the curriculum or activities in their school. NO ONE wants your child to shoulder the cause. Our children need protection from indoctrination and from retribution. Call us. We can help, keep you anonymous and we won't ask or accept a donation. This is not about money for us, it's about protecting our kids and our religious freedom.
The Sign of Jonah, a sign that you would know God's message is today

How Clinton Sold Our Children to Islam
Expanded with footnotes
Islam forced on our kids in public school:
Little Samantha, a 7th grader in Byron County didn't want to "become Muslim," fast for Ramadan or memorize by heart the following prayer to Allah:
"In the name of Allah, the Compassionate, the Merciful. Praise be to Allah, Lord of Creation, The Compassionate, the Merciful, King of Judgment day! You alone we worship, and to You alone we pray for help, Guide us to the straight path."
Samantha's mom wrote her a note to "opt out" of the 7th grade Islam course. When Samantha handed her teacher the note, the teacher became angry, held up the note and shouted at the class, "Is there anyone else!?" Read more See pdf. of outrageous ruling
Introduction to BlessedCause - overview
Amazing worship songs by Jane Collup


Lord, here we go again ©Jane Collup far better recording quality


Combined medley of samples ©Jane Collup
Listen to more songs by Jane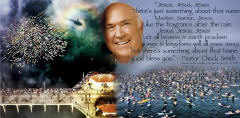 click on image to enlarge


Hear Pastor Chuck sing Jesus song


and also "The Lord bless thee"
Quotes from U.S.textbooks and supplements glorifying Allah while disparaging Jesus and Biblical prophets
PDF of Actual Court Case allowing teachers to REQUIRE children get on their hands and knees and pray to Allah
What's In the Koran / Quran? Indisputable quotes
News Articles


Audio links to Guest Appearances of founder of BlessedCause

Jen Shroder on Glenn Beck 4th Hour
Of Supreme Court Justices & Gay Manifestos in Public School

Oh, How God Loves You - Part I


Oh, How God Loves You Part II -
Read Scriptural back up of how our sins pollute the land and how we are ambassadors of Jesus Christ in a land groaning for His return
In case you didn't know how He can change your life...based on God's Word, God's Unconditional Love & Father's Love Letter
Peaceful Warning to U.S. Government & Guide to
Petitions to Secede by State
Links to your state to sign Petition to Secede
20 States seeking to Secede; What are the godly to do?
A Special Message about why the Republicans lost and what to do now
Faith in God, not Romney (prior to election)
Embarrassing T.rex proof that evolution is wrong, buried by the media
Two Beasts and a Braveheart
The Story of Obama, Romney and Ron Paul
One Million Moms, Ellen DeGeneres,
the Gay Manifesto and Prop 8
by Jen Shroder, FREE TO REPOST
Comment on article at RenewAmerica using facebook

Battlefield Public School: Send in the Moms


IndoctriNation film trailer
Watch highlights of film
For Marine and Military Moms as our sons and daughters pack up to leave

Gianna Jessen, abortion survivor, an amazing passionate appeal on youtube video

Parental Rights
LISTEN: Director of Principal's Association says parents don't know what's best for their children.
The attitude has been there, it's just rare to see academics admit it.
Answers to questions added to The Sign of Jonah, Three Days and Three Nights
What is Footwashing Evangelism?
The joy of washing feet
How Planned Parenthood Impacted my Youth by Jen Shroder
Islam Indoctrination in U.S. Textbooks
The Clinton and Islam Partnership
Facts researched and confirmed by leading news organizations
Exposing our government who force kids to pray to Allah
Yale Prof Mary Habeck explains the Method of Muhammad
Cordoba Mosque, Texas Board and the Associated Press
by Jen Shroder
Revelation 12: A Gentile woman travailing
More posts regarding Revelation 12
Calif. Racist Education Standards Infecting Nation
California's Progressives battle Texas Textbooks
By Jen Shroder
Obama's Middle Name Ignites Textbook Battle
by William LaJeunesse, Fox News
The Truth about Islam
by Jen Shroder, Jan 6, 2010
Obama's Illegitimate War with Israel
What Johnny Needs to Learn About Islam
Great success in Florida & Texas! Arnie, you're in trouble!
WEEKLY STANDARD! THANKS!
Fox News covers Indoctrination in Textbooks
Adam or Obama, Resist or Submit?
by Jen Shroder, Jan 1, 2010
Hillary's Tools of Disposal: Our Children for Islam?
Jen Shroder
Public School Textbooks: Assume you beheaded Paul Johnson ISLAM IN PUBLIC SCHOOLS
What Terrorists Want You to Know

POWERFUL video for pro-life, short, a must see Thanks "eots", well done. ... not recommended for anyone who has had an abortion...Coming soon: "Comfort for those who aborted their own"

Radical Video: Don't Drink and Drive Caution! Explicit
A glimpse is all it took
A patriot's hope for America & "Restoring Honor" Rally in Washington
Does Truth Matter?
by AndyTL
Islamic organization fails to refute:
The Disaster of Forcing Fantasy Islam
Daniel Pipes: Islamists Police the Classrooms
and Spreading Islam in American Public Schools
Politicians admit Muslim Religion lights the Terrorist Match
IMPEACH Judge Phyllis Hamilton Index
Actual Court Rulings on PDF for abortion and prayer to Allah in public school
9/11 Commission on Hardball COVER-UP
or was it just a mistake? Religious beliefs of terrorists...
ISLAM FORCED ON CHILDREN Index
Children reduced to public education slaves on their knees to other gods. Recruitment attempts to a violent religion as plots are made to destroy their own people
NY Times, where's the gratitude for Cpl. John Harrison's sacrifice?
Includes "Sorry Jocelyn, Cpl. John Harrison Can't Save You"
Pray for President Obama and Glenn Beck
by Jen Shroder
Mel Gibson: Wake up, Samson, the media is upon you!
Defense of Mel Gibson, free to repost
Terri Schiavo's Terrorists, Supreme Judicial Homicide political cartoon
Prop 8: Gay Activists own the Animus
by Jen Shroder, Jan 21, 2010
Gov. Schwarzenegger, Prop 8 and Gay Marriage