God's passion for you, it's all about you!
President Bush, Iraq, Patriot Heroes & Troops: Our forefathers would applaud!
United Nations, Davis Recall Plot, BlessedCause impacts in Politics & Whose groping Arnold Schwarzenegger?
Spirit of the antichrist alive and well in California schools
Stand up against Sex Ed Porn in public school
Archived News Coverage of Islam in Public Schools
Woe to ACLU and NEA Teachers Union
Free Original Christian Art, Music & Sculpture

The Sign of Jonah explained, God's message is heard
Islam Induction in our Public School Textbooks
actual words of Houghton Mifflin exposed and why
Quotes of Quran, Hadiths, Koran about infidels
BlessedCause Footwashing Ministries
Hearing God & Personally Witnessed Miracles
Free Original Christian Art, Music & Sculpture
How Clinton, ACLU rigged Religious Guidelines & U.S. District Judge Phyllis Hamilton
Thank you to all vets, our troops and military! God BLESS and lead you!
John Walker Lindh & California school proselytizing
Islam proselytized in Public School
God blesses those who bless Israel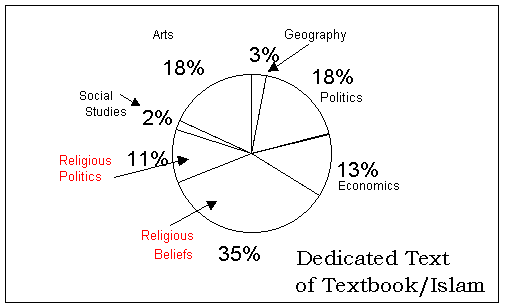 Please note: "Geography" with 3% is the NUMBER ONE stipulated topic of study.
State standard: "7.2 Students analyze the geographic, political, economic, religious, and social structures of the civilizations of Islam in the Middle Ages."
Religious politics and Religious beliefs combined equals almost HALF of the unit on Islam.
Continue to PAGE 2
(Link to this chart was at the end of page 1) How you can help