Spirit of the antichrist alive and well in California schools
News Coverage of Islam in Public Schools
Free Original Christian Art, Music & Sculpture

The Sign of Jonah explained, God's message is heard
Islam Induction in our Public School Textbooks
actual words of Houghton Mifflin exposed and why
Quotes of Quran, Hadiths, Koran about infidels
BlessedCause Footwashing Ministries
Hearing God & Personally Witnessed Miracles
Free Original Christian Art, Music & Sculpture
How Clinton, ACLU wrote Religious Guidelines & U.S. District Judge Phyllis Hamilton
Thank you to all vets, our troops and military! God BLESS and lead you!
John Walker Lindh & California school proselytizing
Islam proselytized in Public School
God blesses those who bless Israel
Don't miss "Corruption in our children's textbooks."
(ORIGINAL ASSIGNMENT, which first led me to look closely at the textbook "Across the Centuries." My son's teacher told me it came out of the "Teacher's Edition" of the textbook. Parents wouldn't normally see this. My son was out this day and it was a makeup assignment.)
Tree of Life and Knowledge
Each animal plays a special part in the Hindu view of life and its addition of the tree would be a reflection of the view of that symbol in the artist's life. For example, the five-headed serpent at the center is a sign of evil and danger. The goose at the end of each branch stands for the soul's ability to take "flight".
In making your own Tree of Life focus on objects that symbolize a prized or feared, part of your own life. It need not be recognizable. Only you need to know what it means!
Create your design on scratch paper, and show to the teacher.
The teacher will give you a large sheet of Black construction paper. Sketch out the design. Use oil pastels to make your Tree of Life come alive.
Tree of Life and Knowledge – Bronze
[Here there was a picture of a Hindu tree as an example, with the trapped symbols within it.]
My son responded with a picture of the Biblical angel which God placed there to guard the "Tree of Life" with a flaming sword.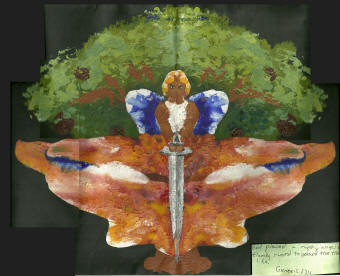 click on image for enlargement
"God placed a mighty angel at the east of the garden of Eden, and a flaming sword which turned every way, to guard the way to the tree of life." Genesis 3:24
~jen